[ad_1]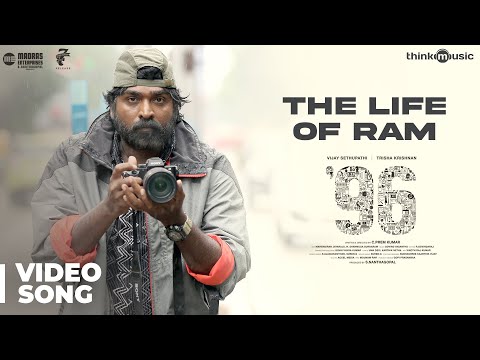 96 Songs | The Life of Ram Video Song | Vijay Sethupathi, Trisha | Govind Vasantha | C. Prem Kumar
Madras Enterprises presents "96" Tamil Movie Songs
96 Songs | #TheLifeofRam Video Song | #VijaySethupathi, #Trisha | #GovindVasantha | C. Prem Kumar
#96 Ringback Tunes ► https://bit.ly/2woIXyu
Listen to #96 Songs now available:
iTunes ► https://apple.co/2Nf3zQr
Saavn ► https://bit.ly/2My4S0w
Gaana ► https://bit.ly/2MSuGny
Wynk ► https://bit.ly/2o6bZOZ
Hungama ► https://bit.ly/2MwHJvu
Raaga ► https://bit.ly/2LnumIr
JioMusic ► https://bit.ly/2woqr8L
Song: The life of Ram
Singer: Pradeep Kumar
Lyrics: Karthik Netha
All songs Composed and Produced by Govind Vasantha
Musician Credits:
Flute Kiran
Guitars Mithun Raju
Bass Naveen
Mixed by Amith Bal
Mastered by Sreejesh Nair
Composed and Produced by Govind Vasantha
96 is an Indian Tamil-language romance film written and directed by C. Prem Kumar who earlier handled the cinematography for Naduvula Konjam Pakkatha Kaanom, the film features #VijaySethupathi and #Trisha Krishnan in the lead role and the film is bankrolled by Nandagopal of Madras Enterprises. The music for the film is composed by Govind Vasantha, who is currently working in Balaji Tharaneetharan's Oru Pakka Kathai and N. Shanmuga Sundaram is doing the cinematography.
#96 Tamil Movie Crew:
Starcast: Vijay Sethupathi, Trisha Krishnan
Banner : Madras Enterprises
Producer : S. Nanthagopal
Directior : C. Prem Kumar
Music : Govind Vasantha
DOP : Mahendiran Jayaraju, N. Shanmuga Sundaram
Editor : R. Govindaraj
Audio Label : Think Music
© 2018 SPI Music Pvt. Ltd.
For All Latest Updates:
Subscribe to us on: http://www.youtube.com/thinkmusicindia
Subscribe to us on: http://www.dailymotion.com/thinkmusicindia
Follow us on: https://twitter.com/thinkmusicindia
Like us on: https://www.facebook.com/Thinkmusicofficial
Follow us on: https://plus.google.com/+thinkmusicindia
Follow us on: https://www.instagram.com/thinkmusicofficial


[ad_2]

Source link